TEAC Corporation (TOKYO:6803)(head office: Tama, Tokyo, President & CEO: Yuji Hanabusa) will release a new USB DAC Amplifier AI-303 start delivering from January 2023.
Product Name
Model
Realease Date
USB DAC Amplifier
AI-303
January, 2023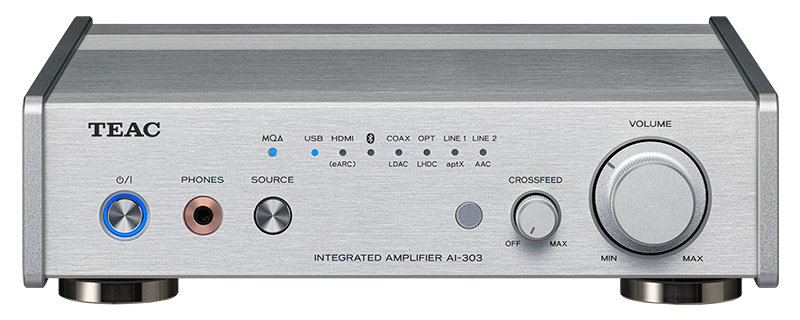 AI-303-S (Silver)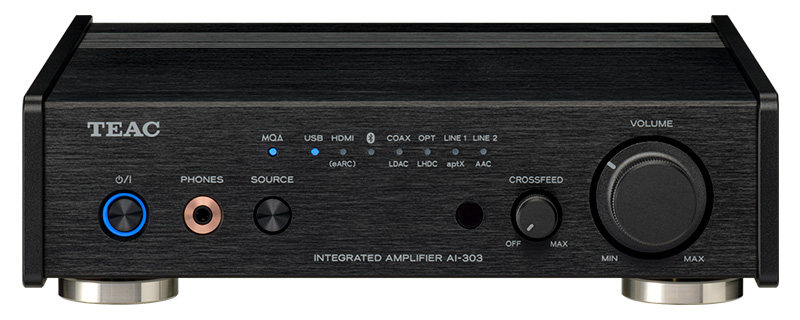 AI-303-B (Black)
The AI-303 is a stereo pre-main amplifier that supports a variety of digital inputs despite its mere 215mm wide body. Equipped with an HDMI terminal that supports ARC/eARC, you can easily upgrade the sound of your TV by combining it with your favorite speakers. Music programs and video streaming can also be enjoyed in high sound quality. The small size makes it easy to place around the TV, and as a USB DAC, it supports 11.2MHz DSD and 384kHz/32bit high-resolution (HD) sound sources, allowing you to build a high-quality sound high-resolution system on your desktop. The USB-C port allows for easy high-quality sound playback not only from a PC, but also from a smartphone or tablet. The headphone output also supports ground-separate connection by using a 4-pole jack. A Bluetooth receiver that supports high-quality sound transmission such as LDAC and aptX HD is included, allowing playback from smartphones with high sound quality. Two analog inputs are also provided for use with your audio equipment.
Features
Connecting from TV with a single HDMI cable
Supporting DSD512 and PCM 384/32 Hi-Res audio formats
Wide range of digital inputs, HDMI, USB-C, Coaxial, and Optical
USB-C for versatile USB connection with PC, Smartphone and Tablet
Built-in Bluetooth® receiver supporting LDAC, and Qualcomm® aptX™ HD
USB-C for versatile USB connection with PC, Smartphone and Tablet
A two pairs of audio inputs for flexibility
High performance Ncore® power amplifier from Hypex
4-pole Headphone output with Ground-separate
Coupling Capacitor Less Circuit headphone amplifier
More natural headphone listening with Crossfeed
MQA full decoding
Various DAC modes with SoC
High-quality analog volume with ladder type attenuator
Asynchronous mode to eliminate USB transmission jitter
"Bulk Pet" digital audio transmission
Three-point support stress-less feet
Bluetooth® multipoint connection for two
Subwoofer Preout
Full metal cabinet design
  *Specification may change.
For more information,
Product page
AI-303