TASCAM Expands Professional Blu-ray Line with BD-MP4K
Professional-Grade 4K UHD Blu-ray Player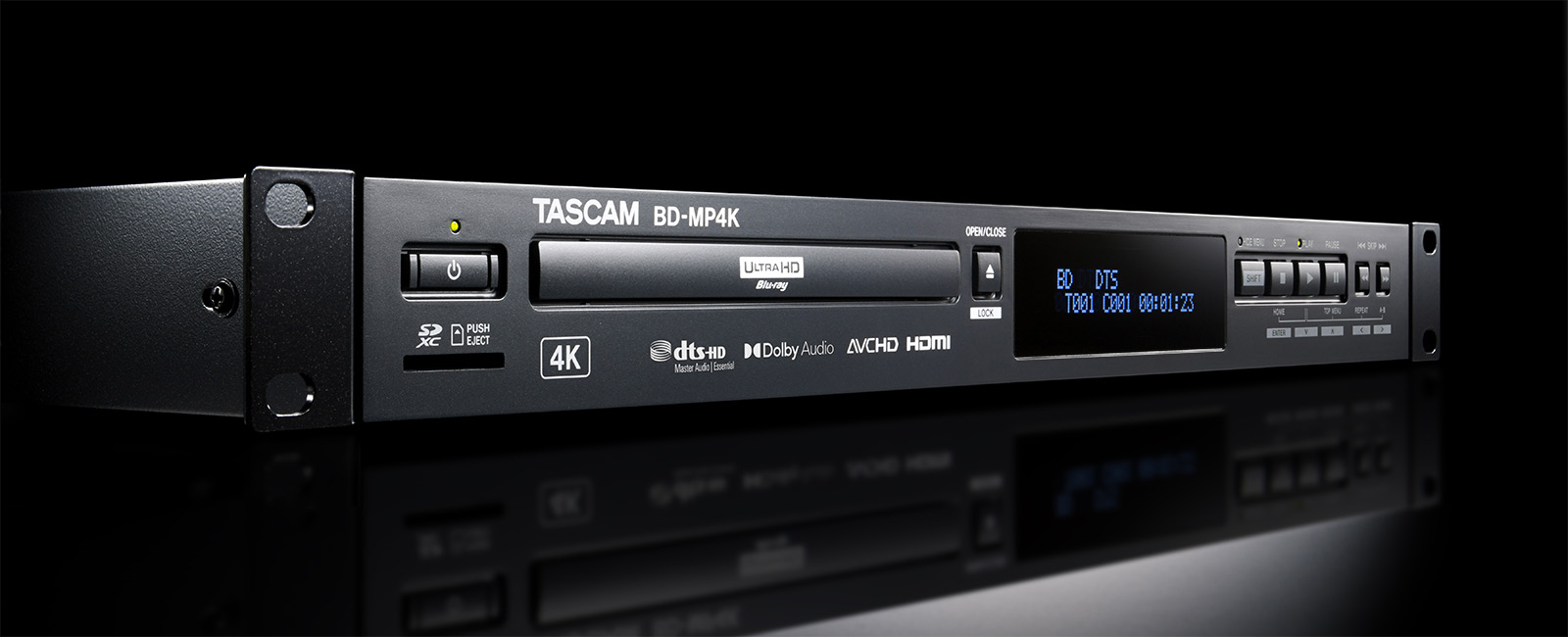 TEAC Corporation, Tokyo, Japan - November 2020... Building on the success of its popular BD-MP1 Blu-ray player, TASCAM introduces the new BD-MP4K professional-grade 4K UHD Blu-ray player. The BD-MP4K is the perfect choice for a wide range of commercial installations requiring 4K ultra high definition quality, including public, educational and commercial facilities, theaters, amusement and entertainment businesses, to name a few.
The compact, single rack space BD-MP4K saves space by eliminating the need for discrete audio/video playback devices in an installed rack, accepting a broad range of media and file formats via four versatile input slots - disc tray (Blu-ray/DVD/CD), USB flash or SD card.
In addition to its versatile input options, the BD-MP4K supports all popular media and file formats including Blu-ray (Blu-ray: 4K Ultra HD BD, BD-ROM, BD-R, BD-RE), DVD (DVD-ROM, DVD-R, DVD-RW), CD (CD-DA, CD-R), Video (MPEG1, MPEG2, MPEG4 AVC, VC-1, AVCHD, WMV), Image (JPEG, GIF, PNG) and Audio (LPCM, MP3, AAC, WMA), File playback from Samba Server (NAS) through gigabit Ethernet is also supported.
A unique Power-on Play feature enables content to automatically begin playing immediately on power up, without having to engage the BD-MP4K's Play feature. With Power-on Play active and Repeat Mode set to "On," content will automatically start, loop and play continuously until system power is turned off. In installed setups, this means a single power up of the integrated AV system will begin playing and looping content without having to press the Play button.
Protected operation from accidental settings changes or non-authorized use is provided via the Panel Lock button on the front panel. IR and tray lock functions prevent accidental or user-error operation or alteration of pre-set controls in commercial installations, helping ensure consistent and reliable performance in any installation.
A unique Hide Menu function allows customization of the display monitor's boot up process. In this mode, the monitor display screen can be set to display a black screen during start up rather than displaying the manufacturer's standard factory setup screen and source select menus. The result is an elegant and non-distracting visual start-up environment each time the system is turned on.
In addition to remote control operation, all playback functions can be accessed locally from the front panel control buttons if desired (Stop, Play, Pause, Skip, Repeat). Playback controls can be locked from accidental changes or non-authorized use via a front panel Lock button.
For integrated commercial systems where remote control operation beyond IR is desired, the BD-MP4K offers both RS-232C and IP network connectivity. The unit's RS-232C port enables seamless, reliable two-way status feedback and control between devices, while gigabit Ethernet connectivity streamlines connectivity for integrated system control and operation.
Connection of display monitors or televisions is quick and easy via the unit's back panel HDMI plug-and-play port. Both HDMI 2.0 and 1.4 formats are supported. When it comes to professional audio quality and commercial integration, the BD-MP4K is pure TASCAM. 7.1 Surround Sound connectors are provided on the rear panel for fully immersive, rich audio playback in any commercial installation. Additionally, professional-grade XLR balanced stereo analog outputs as well as RCA unbalanced stereo are offered.
Coaxial and Digital Audio Out connections round out the BD-MP4K's audio feature-set, accommodating professional-grade digital audio output formats including Dolby, DTS, and others. Playback of 2 channel linear PCM is also supported.
The TASCAM BD-MP4K is a professional-grade 4K ultra HD Blu-ray player for commercial installations that extends the line in addition to the TASCAM BD-MP1 Blu-ray player.