2018年8月28日

TEAC Corporation (Tama, Tokyo; President & CEO: Yuji Hanabusa) will release the Multi-Track Live Recording Console TASCAM Model 24.

Product Name
Model
Release Date
24 Track Live Recording Console
Model 24
November 2018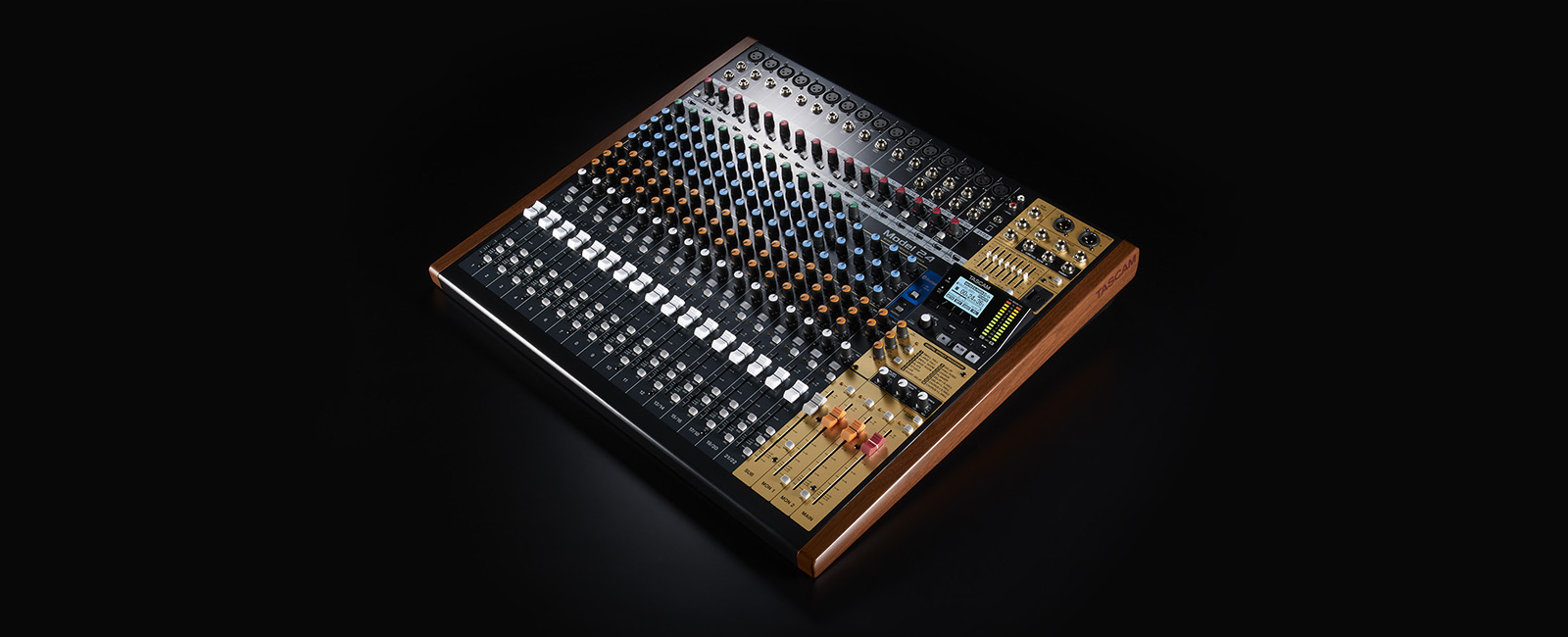 - The Classics, Reborn -
TASCAM has continuously been providing industry-leading recording solutions such as the TASCAM 38 Open Reel 8-track, the DA-88 Digital 8-track and the legendary Portastudio family of Analog Cassette and Digital Multitrack recorders. Now, TASCAM is reinventing its legacy, one of its classic lineups, infused with the latest audio technology; The brand new, beautiful multi-track live recording console, Model 24.
Whether for your rehearsals, live shows or production, Model 24 is the most ideal true multi-track recorder, mixer, and audio interface. The triple-function hybrid recording console has evolved to perfectly meet today's music industry demands.
The Simple, Intuitive Design
One glance is all you need - Model 24 was developed to be simple and intuitive for anyone to use. The 100mm physical faders allow for precision when tweaking volume, the accessible 7-band graphic stereo EQ to master the mix, the familiar EQ/Aux knobs, and the input/output jacks are all on the surface for quick and easy access.
TASCAM's revolutionary recording technology
Model 24 allows the users to directly record to an SD card, 24 tracks simultaneously in 24bit/48kHz, and it is capable of punching in/out 8 tracks at the same time. With TASCAM's revolutionary recording technology, the console can also directly playback 22 tracks simultaneously from an SD card. TASCAM's 16 high-grade mic preamps will guarantee a capture of the most pristine sound possible.
Flexible Connectivity.
Flexible Connectivity
Model 24 is flexibly equipped with 22 analog inputs consisting of 20 balanced inputs (12 mono and 4 stereo), 1 unbalanced stereo input. Also, Model 24 lets you connect to your favorite DAW via USB. Your smartphone can be connected with the Bluetooth® feature to stream rehearsal audio for individual practice or to get the audience going with exciting songs before you strike the first chord on stage.
Durability and Reliability
The console is light weight - you can easily carry it around between a studio, rehearsal space, venue or wherever you want to work at, and TASCAM's renowned reliability guarantees the console to function smoothly anywhere.
Power
AC 100 - 240V, 50/60Hz
Power Consumption
52W
Dimensions
577(W) × 106(H) × 529(D)mm
(including side panels, knobs and connectors)
Weight
10.4kg